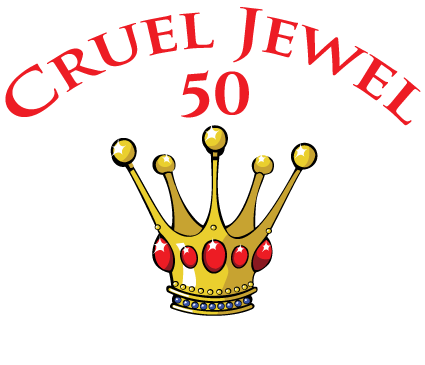 Course Records
Ladies: 12:20:03 (2019)
Gents: 10:13:33 (2022)
The Cruel Jewel 50 is a 56-mile foot race deep within the beautiful Chattahoochee National Forest of the North Georgia Mountains. It consists of 50 miles of trails, 6 miles of mountain roads, and has 10 aid stations
We understand that not everyone is cut out or ready for the Cruel Jewel 100, so for these runners we are offering a 56 mile option.
56
Miles
300+
Participants
7
Countries
24
Hours
Just the Facts
DATE
May 18, 2024
START TIME
8:00am on Saturday, May 18
LOCATION
Start: Byron Herbert Reece Heritage Farm | 8552 Gainesville Hwy, Blairsville, GA 30512
Finish: Camp Morganton | 236 Camp Morganton Rd, Blue Ridge, GA 30513
RACE PACKET PICKUP
Friday, May 17: 9:00am – 11:00am at Camp Morganton
Saturday, May 18: 4:30am – 5:30am at Camp Morganton (ONLY for those taking the shuttle)
Saturday, May 18: 6:00am – 7:30am at Start Line – Byron Herbert Reece Heritage Farm (for those driving to the start)
You MUST present your government issued photo ID in order to pick up your packet.
Elevation
Course Information
We understand that not everyone is cut out or ready for the CRUEL JEWEL 100, so for these runners we are offering a 56 mile option. 
Cruel Jewel 50 is a point to point 56 mile trail race deep with in the beautiful Chattahoochee National Forest of the North Georgia Mountains. It consists of 50 miles of trails, 6 miles of mountain roads, and has 10 aid stations. Along your journey from Blue Ridge to Vogel State Park you will experience tough, and sometimes technical, single track trails, ferns and old growth poplar trees, steep ascents and even steeper descents, an historic steel bridge spanning the Toccoa River, the Dragon's Spine, lush green hardwood forests, rocks, roots and ridge lines … all of which will be passed before you reach your final destination. And as a bonus we have thrown in 15,000 feet of gain and 15,000 feet of loss just to keep you smiling !!

Race Rules
Any runner that violates any of the below listed regulations is subject to disqualification. Any crew that violates any of the below listed rules is subject to the disqualification of their runner.
No Littering !!
NO PACERS allowed
Runners must stay on marked course at all times
No cutting of switchbacks
Runners must check in at eachaid station
Runners may only receive aid at designated aid stations
Runners may not receive aid from or be paced by vehicles on road sections
Crews may only use crew accessible aid stations
Only ONE car per crew at each aid station
Crew will NOT park in a manner that will block traffic, trailheads or other cars
Crew will NOT leave car parked at aid station
Trekking poles are allowed
Runners may only be scored for awards under gender designated on government issued ID.
Participants that elect to not disclose their gender or choose "Other" as their gender will not be
included in scoring for awards.
Lodging
Blue Ridge, GA is the closest town to the race start, and there are a few chain hotels there. The building we use for the finish (start/finish for 100 milers) has dormitory style rooms with bunks on either side of the common space. These are available on a first come first served basis. You should not expect the rooms to be quiet. If you choose to sleep on one of the bunks, you'll need to bring a sleeping bag or linens and pillow. Ear plugs might be a good idea, too!
Camping
If you are taking the shuttle to the race start, the closest town for lodging is Blue Ridge, GA. Camp Morganton also has primitive campsites available. Please email us through Ultrasignup to reserve a space. There is a restroom in the group shelter.
You should not expect this space to be quiet as 100 mile runners, pacers, and crew will be coming and going throughout the night. 
Weather Notes
Weather in this region can range greatly in May. Runners should prepare for the possibility of rain and temperatures typically ranging between 50°F to 75°F.
Current Weather
Shuttle Information
There is a paid shuttle from the finish line to the start line on the morning of the race. You MUST be at the FINISH line NO LATER THAN 5:45am on the morning of the race in order to take the shuttle AND you MUST have reserved a spot!! Sign up for the shuttle when you register at UltraSignUp.com.
If you didn't purchase a shuttle pass when you registered, no worries! You can purchase one on Ultrasignup by navigating to the Cruel Jewel 50 page from here, and clicking on the 'Store' link.
Volunteering and Sweeping
Please contact us for additional information on volunteering and sweeping using the form options at the top of the page.
Volunteers often help with the setup and breakdown of equipment as well as helping runners during the beginning and end of the event.
Sweepers will assist with trail marking, placing flags, and trail cleanup at the end of the event.